01-Jul-2021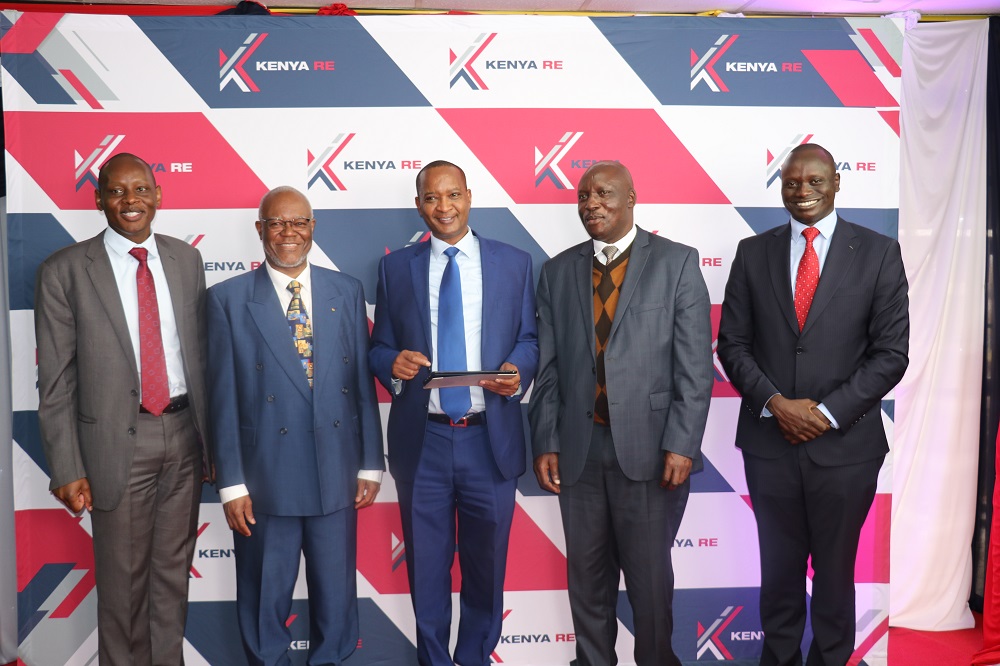 On the 30th of June 2021, Kenya Re held its 23rd Annual General Meeting and presented a performance review of the year ended 31st December 2020. The event was held virtually for the second time since the onset of the Covid-19 pandemic. All the safety protocols laid out by the government of Kenya were adhered to. The event was led by the Corporation's Board Chair Mr. Chiboli Shakaba and the Group Managing Director Mr. Jadiah Mwarania who engaged the various stakeholders through their presentations as well as the Questions and Answer session. 
It was noted that the Corporation posted an increase of 6% in Gross Written Premiums from Ksh17.52 Billion in 2019 to Ksh18.54 Billion in 2020. Net earned premiums rose by 34% from Ksh15.53 Billion in 2019 to Ksh20.85 Billion in 2020. Investment income grew by 2% from Ksh3.71 Billion in 2019 to Ksh3.79 Billion in 2020 and was underpinned by an effective investment strategy. Profit before tax stood at Ksh3.984 Billion in 2020 compared to Ksh4.18Billion in 2019, a decrease of 5%. This was attributed to a decrease of unrealized fair value gains on revaluation of investments properties, increase in net claims incurred caused by increase of the claims reserves between the two periods because of change in methodology used to compute Unearned Premium Reserves (UPR) and Deferred Acquisition Cost (DAC) and a drop in share associates profits from Zep Re of Ksh295 Million (an associate company).
The Corporation's asset base grew by 6% from Ksh50.36 Billion in 2019 to Ksh53.24 Billion in 2020 while the Shareholders Funds increased with an 8% growth from Ksh31.95 Billion in 2019 to Ksh34.40 Billion in 2020. The Corporation declared a first and final dividend of Kshs.0.20 per share for the financial year ended 31st December 2020. 
During this difficult operating environment, businesses have to adapt to new ways of responding to the changing market needs. "The Corporation reviewed its business model and put in place measures to respond to the business environment. Our focus was geared towards improving our market engagement with stakeholders through structured sessions for business development." Said Kenya Re Chairman, Mr. Chiboli Shakaba. 
Alluding to this and speaking during the virtual session, Kenya Re Managing Director, Mr. Jadiah Mwarania said the Corporation will continue to implement its 2017-2021 strategic plan in view of the changing market requirements through the annual reviews documented in the annual business plans. "This will ensure we remain focused on the achievement of the set strategic objectives which are sustainable and robust financial growth, maintaining systems and processes that address business needs and stakeholders' interests, growing and diversifying quality portfolios for business sustainability, maintaining robust risk management initiatives and developing human resources and culture to match the Corporation's performance requirements."
In response to the COVID-19 Pandemic, the Corporation has continued to implement relevant strategies to mitigate the impact of the pandemic. "The Business Continuity Plan in place has quickly enabled adjustment to the disruptions to allow staff to work away from the office, added Mr. Mwarania."
The Corporation has put in place a robust Virtual Private Network (VPN) connectivity in place that allows staff to connect from anywhere and access all systems and resources they would normally access while in office. The Corporation is optimally utilizing use of digital communication platforms including Microsoft Teams, Webex, WhatsApp messaging, emails and telephone calls to frequently keep in touch with the cedants/brokers and hence enhance visibility.