14-Feb-2022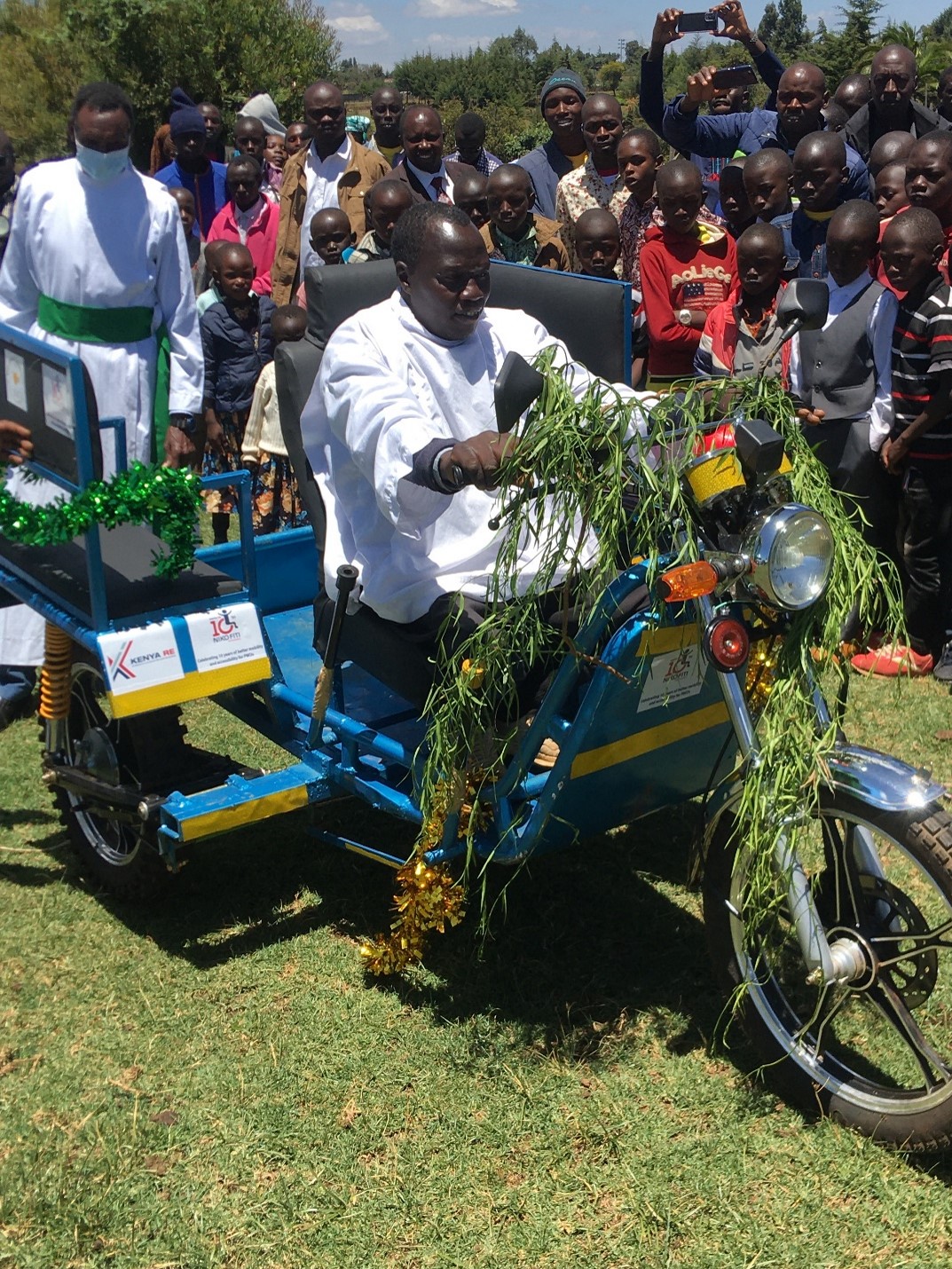 The Niko Fiti@10 cheer and joyful vibe is still on, one year later. Last year, the Corporation received a request from the Priest in charge at a remote parish called Holy Family Mokwo located in Kaptarakwa location of Elgeyo Marakwet County. The dire request sought Kenya Re's support for a motorized tricycle for their catechist, Mr. Solomon Kigen who is differently abled. The Corporation, in collaboration with the technical linkage partner – Association for the Physically Disabled Persons of Kenya (APDK), reviewed the request and found the case to be very genuine and one worthy of support. The Corporation committed full sponsorship towards fitting and fabrication of the assistive device for the beneficiary, late last year through APDK. 
Soon after inspection as per the Public Procurement and Disposal Act, 2015 and all applicable related regulations, the device was ready for delivery. The device was delivered to the beneficiary at his Home Parish in Mokwo, Elgeyo Marakwet County on Saturday, 12th February 2022 by Mr. Edwin Muthabuku of Corporate Affairs department on behalf of the Corporation. Mr. Solomon Kigen could not hide his joy when he saw his device. It was truly a dream come true for him.  Further, the church found it fit to have the device formally handed over to the beneficiary during their Annual Mavuno church service. In support of this, the Corporation formally handed over the device to Mr. Solomon Kigen during the Church's Annual Mavuno service held on 27th February 2022 in the presence of jubilant congregants and area residents. In attendance at the function was Elgeyo Marakwet County Deputy Governor, Hon. Wisley Rotich, Keiyo South Constituency Member of National Assembly, Hon. David Rono, Kaptarakwa Ward Member of County Assembly Hon. Gilbert Kimaiyo and a host of other leaders as well as political aspirants. The Corporation also made a donation of KES 20,000 to the Annual Mavuno which was much appreciated. 
The beneficiary, Mr. Kigen, and his family were very grateful for the generosity extended to them by the Corporation in view of the motorized tricycle. Another life profoundly touched courtesy of Niko Fiti. Long live the cause!