10-Dec-2021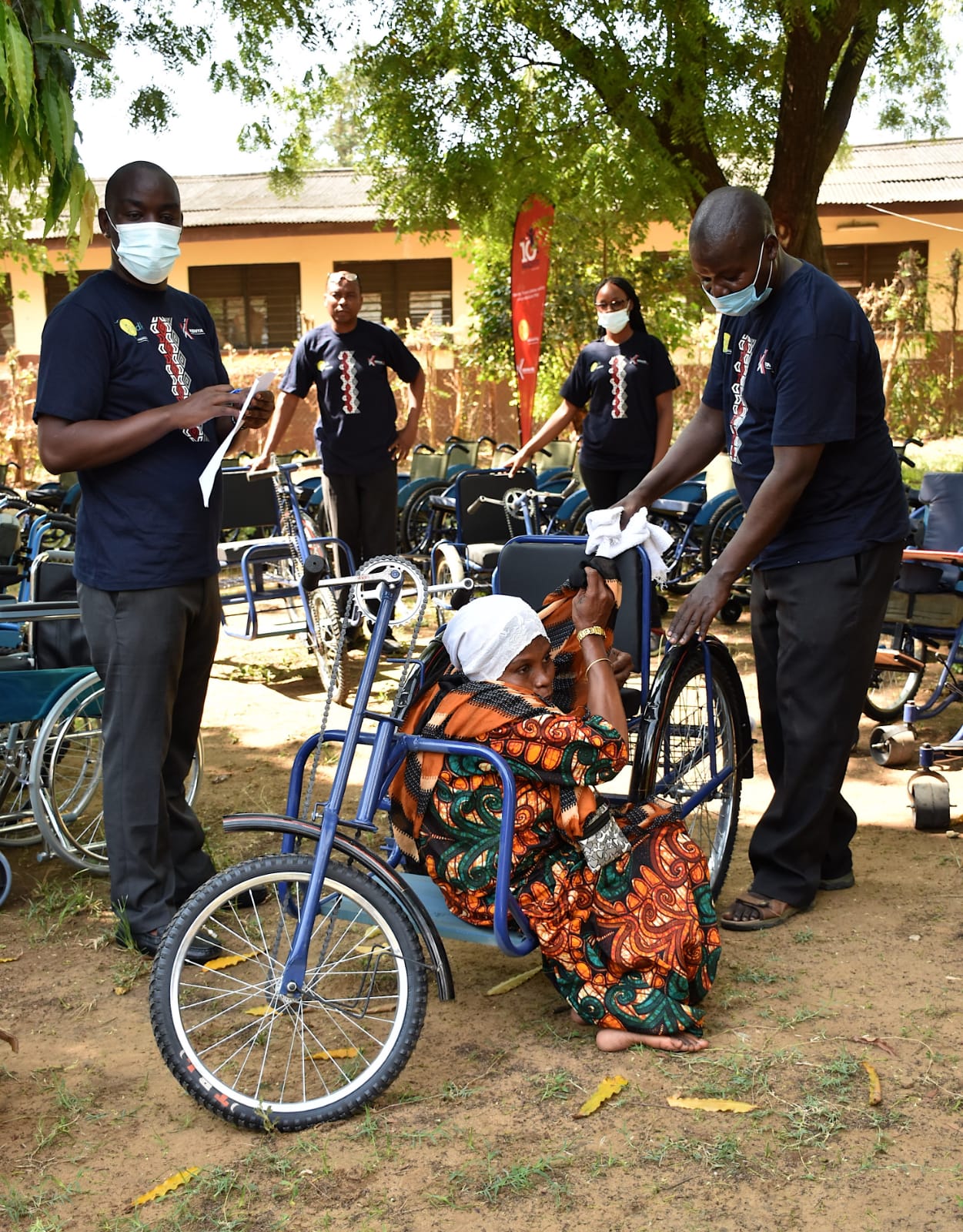 In the spirit of celebrating ten years of better mobility and accessibility for persons with disability, the Niko Fiti campaign stretched its wings to the coastal city and county of Mombasa. The county, which is the smallest country, played host to the Kenya Re team as hundreds of beneficiaries trickled in at different venues to receive their new mobility and assistive devices.
The events in Mombasa were held at different venues which hold significant value to persons with disability (PWDs).  
The first stop was the APDK Bombolulu Workshop and Cultural center on 7th December 2021 where the lives of beneficiaries were changed and transformed. The centre is a member of the World Fair Trade Organization (WFTO) and collaborates with NITA to offer vocational training. The program aims at assisting persons with different abilities enjoy the right of work; by providing an open, inclusive and accessible work environment. The program works with more than 100 persons with different abilities in its 4 sheltered workshops, producing a range of jewelry, textile, wood and leather products of a very high standard made by persons with different abilities.
The ten-year celebration was then stretched to the APDK Rehabilitation Clinic- Port Reitz on 8th December 2021. The center is a haven of hope for children with different disabilities and offers access to rehabilitation services. The clinic comprises of volunteers among them surgeons, therapists, technologists, nurses, social workers and community-based rehabilitation workers. The team has worked closely over the years to unpack the rehabilitation processes by crafting well-structured rehabilitation plans which informs the realization of self-independence.
Finally on 9th December 2021, Ziwani School for the Deaf was the last stop for the Niko Fiti campaign where hearing aids were distributed. The educational institution, located in Tudor, is a special school for children with different hearing impairments. 
Over the course of the distributions in Mombasa County, over 200 beneficiaries received various assistive and mobility devices from the Corporation. Some of the invited guests in the events included Hon. Ms. Ramla Said Omar – Nominated Member of County Assembly (MCA) for PWD's, Mombasa County, Mr. Hubert Seifert – APDK Board Member and Mr. Maison Gin Mohammed – Assistant Chair APDK Coast Branch Advisory Committee. The Corporation was represented by Mrs. Sylvia Karimi, Ag. Manager Corporate Affairs.